Begin Healing with the Assistance of a Car Accident Lawyer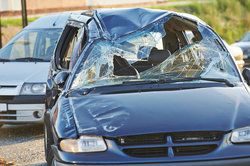 Have you or a loved one been injured in a car accident? After receiving medical care, it is important that you pursue legal representation as soon as possible. Car, truck, and motorcycle accidents can cause serious injury and place a great deal of emotional strain on you and your loved ones. The attorneys at Owens Moss, PLLC, can help you receive compensation for your medical bills and pain and suffering. We promise to always provide honest feedback regarding your case so that you can make the best decisions for your family. To speak with a car accident lawyer at our firm, contact our Jackson, MS, office today.
Types of Car Accidents
Car accidents happen for a variety of reasons. While the large majority of incidents are just that - accidents - the parties responsible for causing them can still be held liable for the injury and damage they have caused. There are several common types of car accidents that occur because one party neglects to follow the rules of the road:
Rear-end Collisions: Rear-end collisions occur when one vehicle is following too closely behind another and is unable to brake quickly enough to avoid a collision. This type of accident can cause a variety of injuries to both parties.
Head-on Collisions: Head-on collisions usually occur at intersections or on two-way roads when one vehicle swerves out of its lane into oncoming traffic. Head-on collisions can result in very serious injuries.
T-bone Collisions: T-bone accidents describe a crash where one vehicle hits another from the side. These collisions often occur at intersections, where one car fails to notice another oncoming vehicle and begins to turn or cross the intersection.
Rollover Collisions: Rollovers can occur from virtually any type of accident when enough force is exerted on one vehicle to cause it to completely turn over. Even in cars that meet the most stringent safety standards, rollover accidents have the potential to cause devastating injuries.
Sideswipe Collisions: A sideswipe accident occurs when one vehicle crosses a line while traveling in the same direction as another car and "swipes" against its side. Sideswipes are particularly dangerous because they have the potential to cause one vehicle to lose control and veer into oncoming traffic or off the road.
Our attorneys will fight to reconstruct your accident and discern which parties are responsible for your injuries.
Resulting Injuries
No matter how minimal your injuries seem after a car accident, we strongly encourage clients to receive medical attention. While some injuries may seem obvious, others can take several days to develop. By visiting a medical professional, you are also able to document your injuries, which is an important step if you decide to pursue compensation. Common injuries sustained during car accidents include:
Soft-tissue Injuries: The most common soft-tissue injury resulting from a car accident is whiplash. Whiplash describes an injury to the neck and upper back that causes the muscles and ligaments in the neck to stretch quickly.
Cuts and Scratches - Cuts and scratches commonly occur during car accidents. Some require medical attention, while others are minor.
Injuries to the Limbs - Your legs and arms can sustain a number of injuries during a car accident. From cuts and scrapes to soft-tissue damage, strains, and even broken bones, these injuries should be examined by a medical professional.
Head and Spine Injuries - The most devastating types of injuries can affect the head and spine.
Contact Our Firm
If you have been injured in a car accident or other type of motor vehicle accident, you are not alone. Contact Owens Moss, PLLC, today to learn more about receiving the compensation your deserve.